'ASCEND'.The vehicle, designed by Deakin University students with the support of ACCIONA Energía, has passed the official scrutineering stage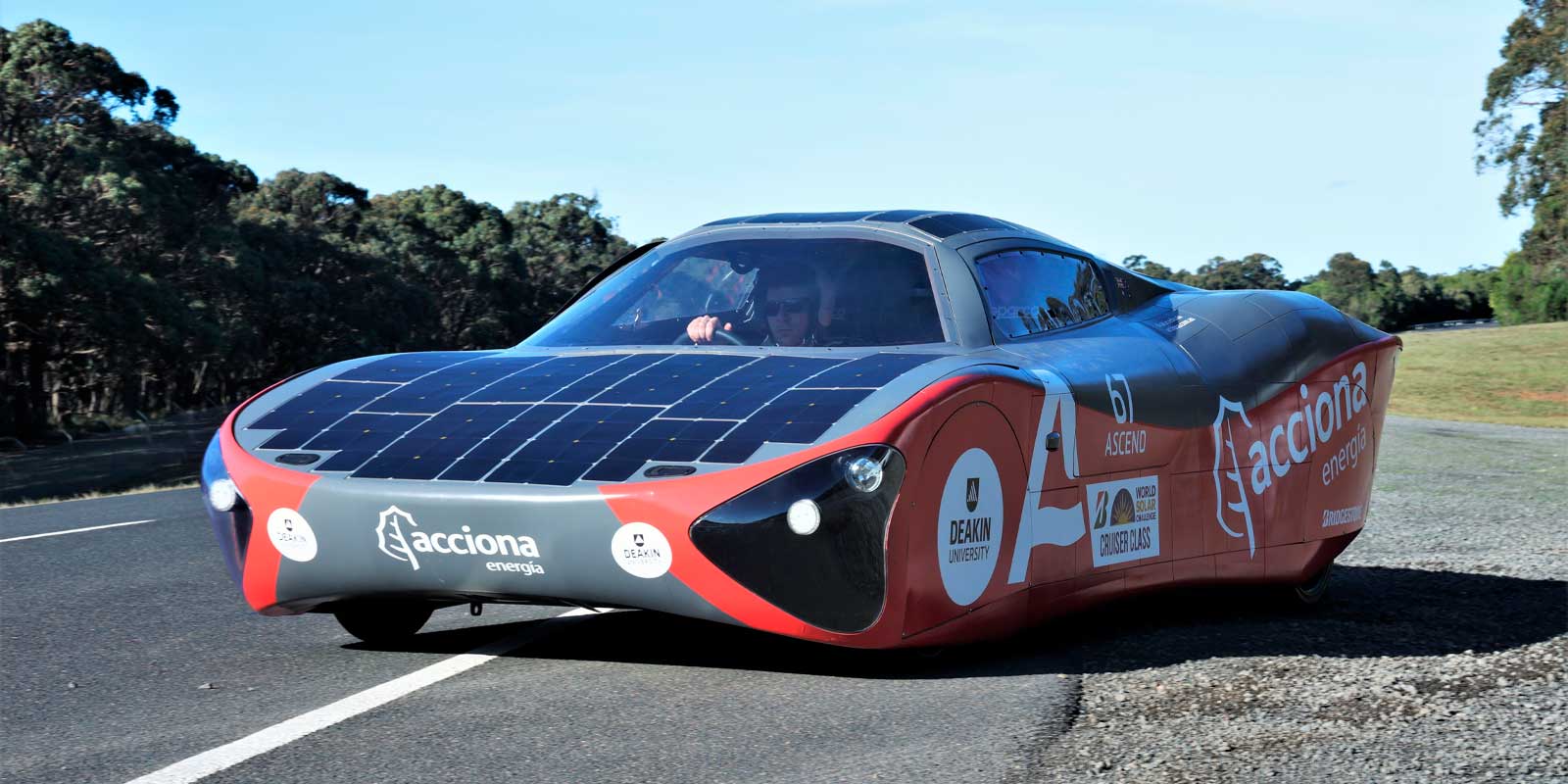 ACCIONA Energía announced today that its vehicle ASCEND, developed in collaboration with Victoria's Deakin University, passed the official race scrutineering, securing a position on the start line for the Bridgestone World Solar Challenge 2023, kicking off tomorrow.
The dynamic scrutineering stage puts all participating teams through a series of exercises to test their car's speed, stability and braking ability. This is the final requirement teams must pass in order to demonstrate they meet the safety and technical standards set by the organizers.
The vehicles, which are powered solely by solar energy, are developed by teams comprising of university and high school students from institutions around the world, who come together to showcase their creative and scientific skills.
The Bridgestone World Solar Challenge is a prestigious biannual sport-science event in which solar vehicles compete in a race across the Australian desert, from Darwin in the north to Adelaide in the south. The 16th edition will be held from 22-29 October 2023, and it will be the first in four years, after the 2021 race was cancelled due to the COVID-19 pandemic.
The competition consists of three categories: the Challenger, where vehicles compete to be the fastest; the Cruiser, where the energy efficiency and functionality of the vehicles are evaluated; and the Adventure, a non-competitive category that includes all solar vehicles that do not fall into the previous categories.
THE ASCEND VEHICLE
The car that was born as a result of the four-year collaboration between ACCIONA Energía and Deakin University has been codenamed ASCEND, standing for ACCIONA Solar Car ENgineered by Deakin. The car was designed in the vein of the classic grand tourer with a modern twist.
Nearly 1,000 students from various faculties have been working on the project. They had to improvise home workshops and home laboratories to make progress during the months of stringent mobility restrictions due to the COVID-19 pandemic.
The aim of the student designers has been to create a car that drives and performs like a grand tourer and combines desert-crossing endurance with driving comfort.
ASCEND will participate in the Cruiser Class category and will complete the 3,021-kilometre race in three intervals of around 1,000 kilometers each. Winners will be selected based on several factors, including payload, energy consumption, energy efficiency and practicality.
If you want to know more about this collaboration, visit our EXPERIENCE